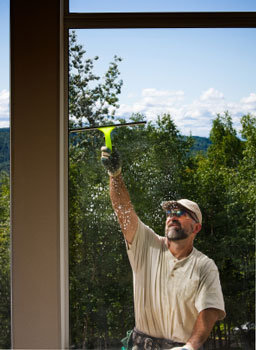 How long did it take you to wash your windows the last time you got around to it? It can take a while. If you need window cleaning in Three Rivers, C-Thru Window Cleaning has you covered. From mobile homes to multi-level homes, our experienced window cleaners will make every glass surface of your home beautiful and streak free. Window cleaning can be difficult to fit into a busy schedule, especially every window on the same day. C-Thru Window Cleaning can clean the inside, outside and all the screens within hours, not days!
In addition to convenience, C-Thru Window Cleaning is cost effective. We can give you an estimate over the phone or contact us online for a quick answer. We're happy to include your bathroom mirrors, dormer windows, and any other glass surface in your home you'd like cleaned.
Convenient Scheduling
C-Thru Window Cleaning makes it our business to be THE premier window cleaner in Three Rivers by cleaning your windows according to your schedule. Call us and let us know exactly how many windows you have and we can estimate the cost as well as how long we'll be there.
Leave the Ladder Climbing to Us
Window cleaning in Three Rivers can be a challenge! With all that great land comes uneven surfaces. Our pros know how to navigate through it all and reach every window of your house. C-Thru Window Cleaning is fully insured so there's no risk to you.
Discounted Window Cleaning Available
We'll be happy to come out and wash your windows when your schedule allows. We offer a discount for those that would like to schedule weekly, monthly or quarterly window cleanings.
No Harsh Smells, Streak-Free Windows
We use professional grade cleaners to provide the best streak free surface you can imagine. Our cleaners are completely safe for your kids and pets, and don't have any harsh smells.
Clean windows improve the curb appeal of your home!
Clean windows make a huge impact to the appeal of your home. Picture the difference between a dirty car and a car that's just been washed- yes, it's just like that!
We stand behind our work with a 100% satisfaction guarantee!
We want you to be completely satisfied when you look out your windows. If we don't completely impress you, we'll come back at no charge until your expectations are met!
If you need a window cleaner in Three Rivers, C-Thru Window Cleaning has the equipment and experience you would expect from people that love to wash windows! Contact us at (559) 799-0764, or use the form below to receive a free estimate. Let C-Thru Window Cleaning take window washing off of your to-do list!
Get a Free Estimate: