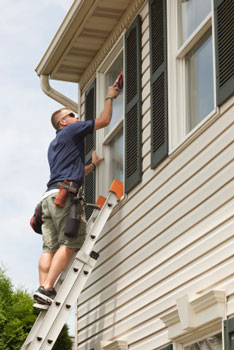 You can probably think of more glamorous things to do with your time than washing windows. If you need window cleaning in Tulare, let C-Thru Window Cleaning make your windows glamorous, or at least beautiful and streak-free! We live for cleaning windows and ensure 100% satisfaction or we'll come back to your home at no additional cost to make you completely happy.
Tulare's Trusted, Reliable Window Cleaning Service
C-Thru has been window cleaning in Tulare since 2007 and we've grown through the tremendous support of our clients. Give us a chance to show you what all the fuss is about and give us a call or fill out the form below for a quick estimate. When we schedule your appointment, we'll provide you with an approximate amount of time we'll be there and what you can expect from our services.
C-Thru Window cleaning will clean your screens, the outside and inside of every window in the matter of a few hours. We can also include any other glass surfaces in your home such as your bathroom mirrors and glass doors.
We stand behind our work with a 100% satisfaction guarantee!
Six Benefits of C-Thru Window Cleaning
Beautiful, streak free windows that will enhance your home's curb appeal (and glamour status!)
100% satisfaction guaranteed or we'll come back for free.
We will schedule an appointment around YOUR busy life.
Let our professional, experienced staff climb those ladders instead of risking your neck! We're fully insured, and we do this everyday!
We offer discounts to those that are looking for weekly, monthly or quarterly window cleanings.
Save your time and energy for more important things!
If you need a window cleaner in Tulare, look no further. C-Thru Window Cleaning is cost-effective, convenient and committed to your satisfaction. To receive a free estimate, call (559) 799-0764 or use the estimate form below. We look forward to making your home more glamorous in the very near future!
Get a Free Estimate: